19th Cocker Spaniel National Championship Show 2022

The Cocker Spaniel Club of Victoria Inc is proud to announce the details of the
19th Cocker Spaniel National
Championship Show 2022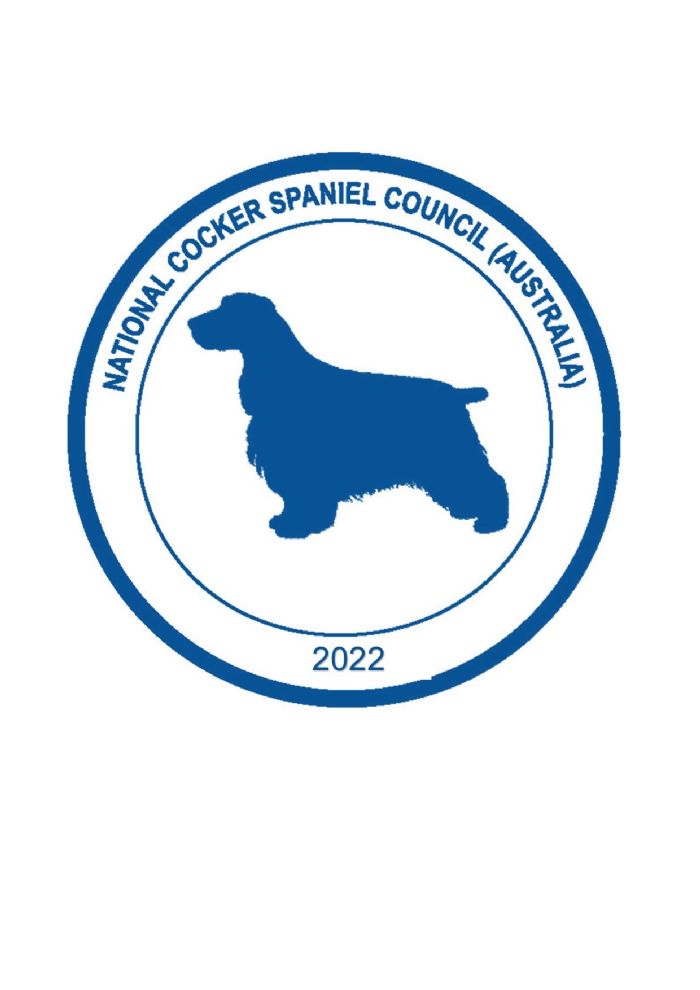 We are extremely pleased to announce that our judge will be Mrs Sue Young from the United Kingdom of Canyonn Cocker Spaniels.
to be held at
KCC Park (State Dog Centre)
655 Western Port Highway (Dandenong-Hastings Road) Skye, Vic.
Hosted by Cocker Spaniel Club of Victoria Inc.
Thursday 3rd & Friday 4th November 2022
In announcing Mrs Sue Young's appointment, the committee of the Cocker Spaniel Club of Victoria Inc, expect that in the interest of fair play to all, that those exhibitors intending to enter at the 2022 National Cocker Spaniel Championship Show will refrain from making contact with our judge via social media, email and all other forms of communication. Should verified information of an approach to the judge be brought to the attention of the Committee, the person/s may have their entries rejected in accordance with Dogs Victoria Regulations.
A WORD FROM OUR JUDGE
Philip & Susan Young (Canyonn)
Philip and I have been involved with Cocker Spaniels all our married life, 50 years this year.
We started with a gorgeous black and white ticked bitch, as time passed we soon realised 'Judy' was not up to the expected show standard, although she was loved and cherished for nearly 14 years.
After a few years of going to shows and just watching and learning about our lovely breed we decided to concentrate on solids, our first red bitch was acquired from Mrs Sims (Rockaydon), unfortunately we lost her to cancer at the tender age of 14 months. Our next red bitch was similarly bred to the first one and she became our first show girl Rockaydon Amberlyn (Amber). Amber was the start of Canyonn Cocker Spaniels and all our dogs to this day are descendants of her.
The love of Cockers has taken over our lives and what a journey it has been, starting our judging experience in the late 1970's working our way from Open shows to judging Championship shows my first CC's in 1989 and Philip in 1995. I have judged in all Scandinavian countries, Hungary, Holland, Spain, Portugal, France, Romania, Russia to name a few (Philip similar). We have both been very lucky to have had the honour of judging the Cocker Spaniel Club of UK and Crufts.
We are both very honoured to be asked to judge in Australia and very much looking forward to seeing our beloved breed down under.
19th NATIONAL COCKER SPANIEL CHAMPIONSHIP SHOW
The venue for the 19th Cocker Spaniel National has been booked at the KKC Park State Dog Centre, 655 Western Port Highway, Skye, Victoria and will be held in the Boxhall Pavilion. The pavilion is an undercover indoor facility and exhibitors will not need to bring gazebos.
An information booklet is being prepared which will contain information about the venue, accommodation and other useful information to help interested exhibitors plan for a successful and enjoyable time while attending the National. Until the information booklet is released, details about the National will also be updated on the Cocker Spaniel of Victoria Inc Webpage. Details about entry fees, catalogue prices and advertising will be released as soon as available.
2022 National News:
DONATIONS: The Cocker Spaniel Club of Victoria Inc. would love to receive donations for all the class winners, class in show winners and runner up in class winners.
Donations can be sent by cheque to our Treasurer, Dallas Heatlie, PO BOX 254, Drysdale, 3222 or by direct deposit into the Club's bank account: BSB: 033-389 ACCOUNT NO: 106559.
If you wish to nominate a particular class, please email our Trophy Officer, Meg Hardy on [email protected] with all relevant details.
PLEASE SEE THE LINK BELOW TO ALL THE INFORMATION CONTAINED IN OUR NATIONAL BOOKLET
https://oz.dogs.net.au/cockerspanielclubvic/uploads/documents/INFO-BOOKLET-Cocker-Spaniel-National-2022.pdf
Key Dates:
all information in information booklet
1st September - Merchandising order cut off date - ordered & to be paid
1st October - Catalogue Advertising closes - to be submitted and paid.
20th October - entries close on ShowManager for both National show & 90th Championship Show​​
3rd November - 1st day of National show - girls day & National Meeting to be held
4th November - final day of the National show - boys day & General Specials
6th November - 90th Championship show
Contact Details
Secretary: Margaret Brodie
Phone: 0418396744
email: [email protected]