ABOUT THE CLUB
Sub-links for this page
The Cocker Spaniel Club of Victoria welcomes anyone with an interest in Cocker Spaniels
The Beginning
The Cocker Spaniel Club of Victoria Inc. was founded in 1931 to cater for the needs of Cocker Spaniel owners in this State. Early in 1931, three exhibitors, Mrs Burns, Mrs N Fraser and Mrs M Henderson decided that the interest of the Cocker Spaniel would be best served by the formation of a Club to promote and foster interest in the breed. The initial meeting was called by Mrs Burns who acted as Secretary "Pro-tem". It was then decided by a small group of fanciers including Mr V A H Mathews (YURNGA), Mr & Mrs Sutton (RANLEIGH), Mr Ewin Cameron (CHETWYND), Mr R Philp (KYVALLEY), Mr P Ward (LOCH), Mr & Mrs Russell Bridgford (TAUMAC), Mr & Mrs A Fraser (BOUGAINVILLE) and Mr F Longmore to form a Club and on 28 May 1931, a constitution and election of Office Bearers and Committee was agreed upon. Affiliation with the KCC of Victoria was duly granted. Mr V A H Mathews was the first President and held that position for 35 years. Mrs N Fraser was the first Secretary who filled this Office for 21 years, followed by Viney Jenkins for a further 12 years.
Many of the early members worked their dogs in the field and were fully aware of the requirements not only in the show ring, but also in the field. All of them were concerned with producing good dogs rather than pleasing judges or following the dictates of fashion.
The Club organised monthly meetings and produced a monthly newsletter. At each meeting there was a guest speaker who was an expert in his/her particular field. Stripping and handling demonstrations were held and there was a marked improvement in the presentation of dogs in the ring.
From time to time the Club also held field trials. One such trial was held on a scorching March day (105 degrees) in 1934. There were 14 entries and the judges were Vern Mathews and Frank Longmore. The winners were Percy Ward's Princess Betty and Alan Fraser's Bougainville Roma.
Early Days
The 40's and 50's saw a wonderful array of talent amongst breeders. One cannot over-estimate the influence of 3 members of the Cocker Club, Vern Mathews (YURNGA), Alex Murnane (WATTLEVIEW) and Alan Crouch (BRULYN). Vern, with his outstanding book on the breed published in the fifties won world wide recognition and his great knowledge of genetics put Cocker breeding on a sound basis. Vern, ably assisted by Alex Murnane (who brought his Cockers from New Zealand at this time) and Alan Crouch (KCC Committee member and All Breeds Judge) made themselves available to advise and assist novices in the breed.
At this time Cockers were rapidly coming into their own, both in numbers and quality. The effects of some top class importations were beginning to become evident. These were followed up with further importations but the rapid improvement was largely due to the fact that some high class bitches were also imported with the males, thus the hereditary qualities of the males were not reduced by matings with inferior bitches. Breeders then had the choice of well bred sires and bitches and as a result Cockers in Victoria reached a high standard and became one of the leading breeds.
This trend continued during the 60's with Arthur Young and his LARKANA Cocker Spaniels featuring prominently during these years.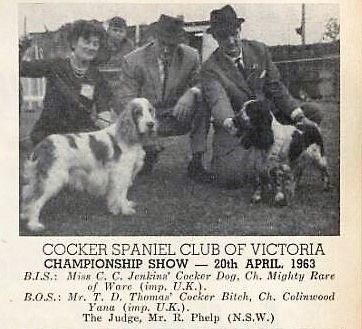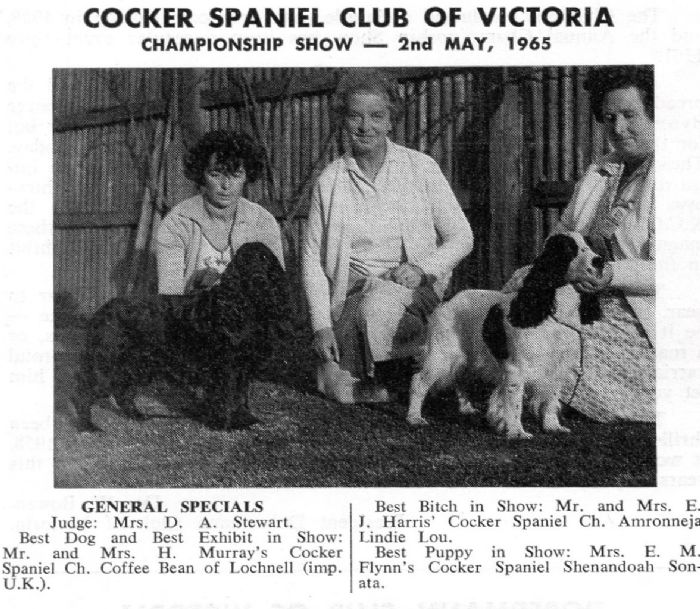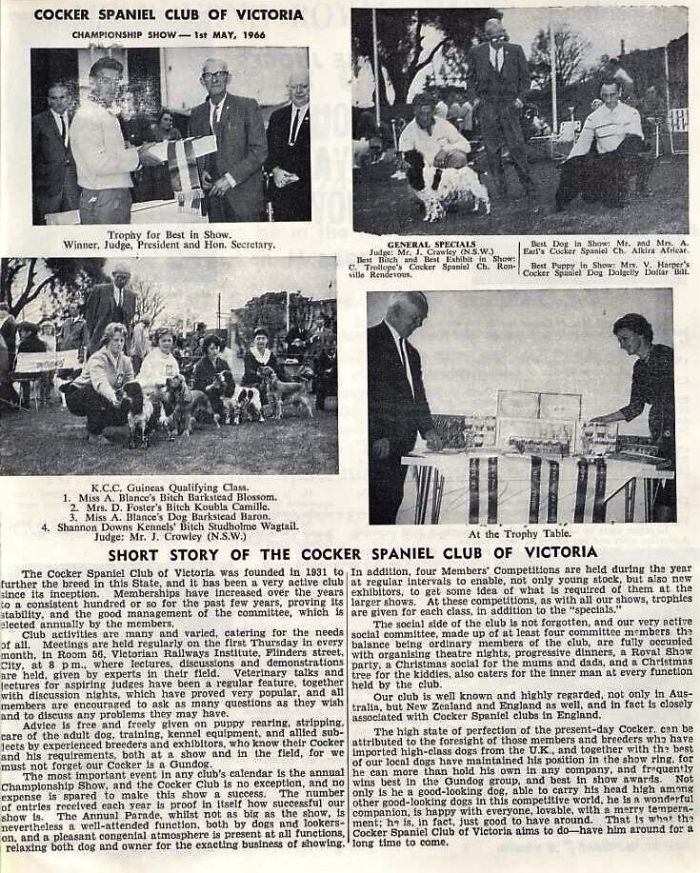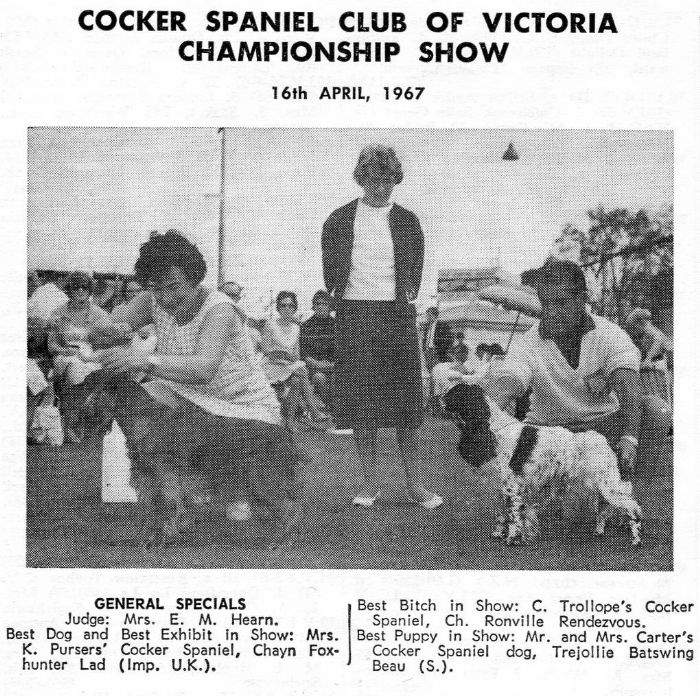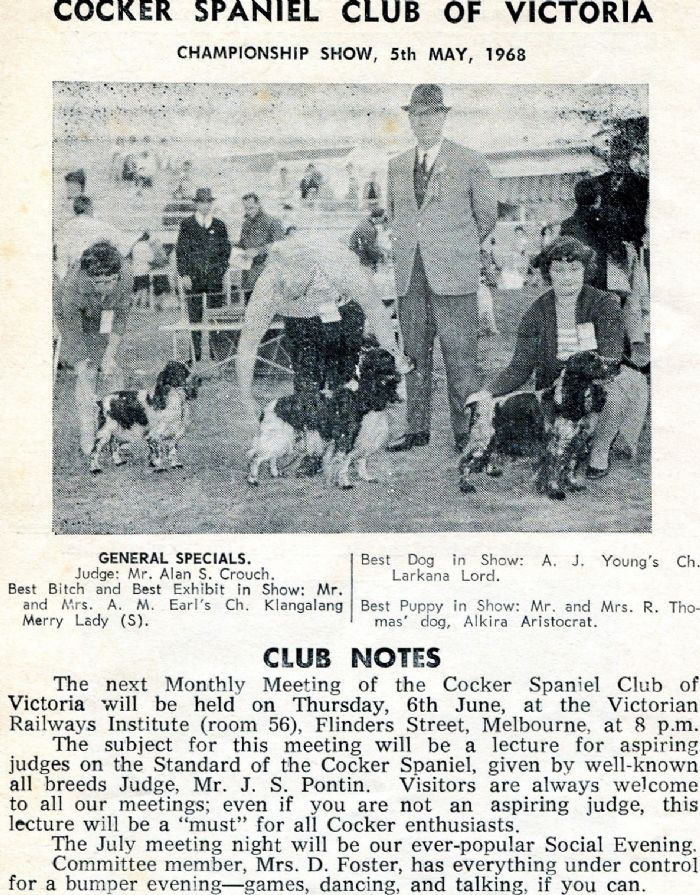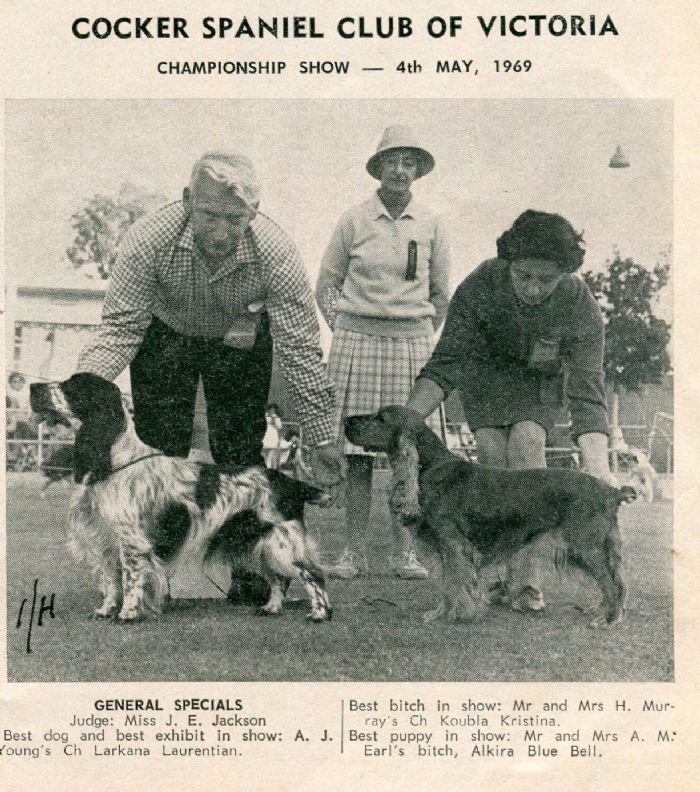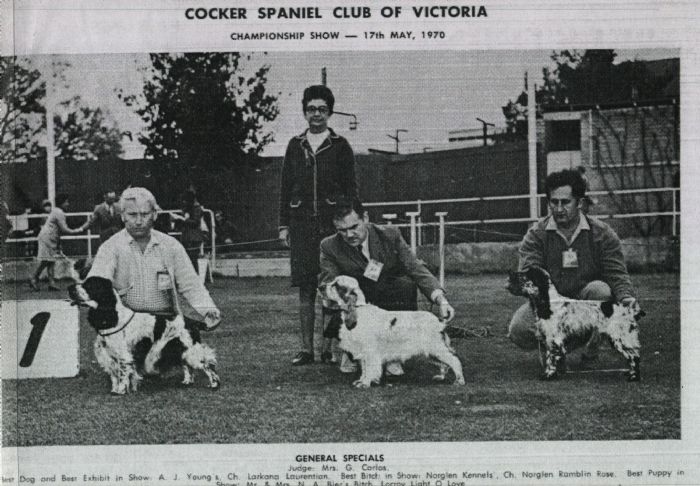 We extend our sincere thanks to Judith Balfour for supplying and allowing us to use the above images
Around this time Harry and Joy Murray (KOUBLA) entered the Show scene with their solid cockers. They also imported stock from the UK and laid the foundation for some of the lovely solids which have been seen in this State over the last 30 years.
Later Years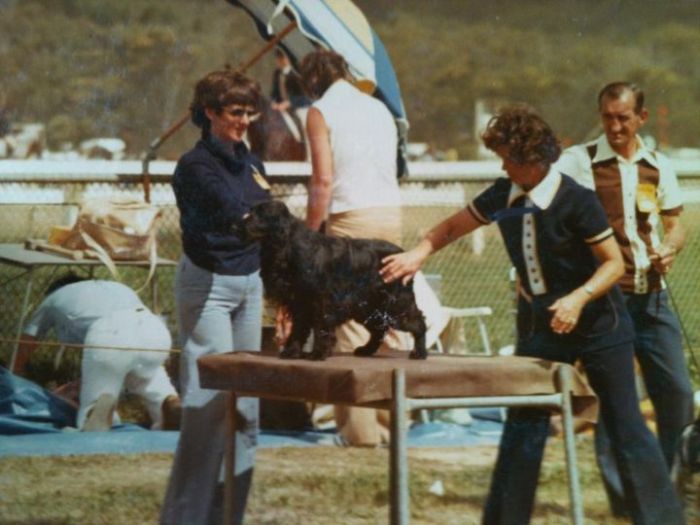 Joy Murray (Koubla) judging, Margaret Brodie (Britebay) exhibitor and Bill Gillett (Donnyview) standing behind
Since the early 80's the number of Cocker Spaniels being exhibited has slowly fallen possibly due to the ever increasing restrictions imposed by local councils but fortunately Club membership still remains stable, due in some part to the support over recent years from the Obedience fraternity which has now become an integral part of the Club activities.
NOTE: This article was submitted for the Gundog Year Book in 1994.
The main objectives of the Club are the welfare and improvement of the breed. The Club conducts a variety of information nights which include topics covering general dog care, showing, obedience, grooming, veterinary lectures, and members competitions for both showing and obedience.
At the Annual General meeting in 1998, it was decided to change the club badge and the background colour from green to navy blue. This was because both NSW and Victoria had green and gold as their club colours which was causing a problem with the National badge concept of different colours for each State. It was resolved that the club accept the following badge
and the new club colours of navy and gold were introduced in 1999.

We thank all these members for their wonderful contribution and dedication over the years and for making the club what it is today.
The Club also conducts an annual Open Show and Championship Show. New members are always most welcome and can be assured of assistance from other members of the Club.
Further information about the Club, its activities, or puppy and stud dog listings please visit the information on our website.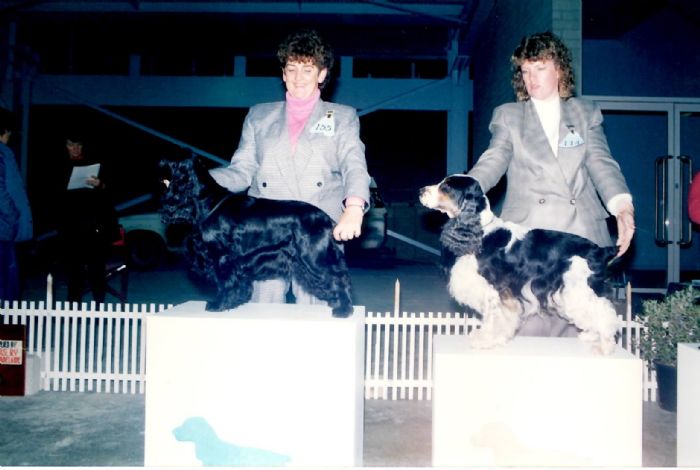 Our Secretary Margaret Brodie and our past President Robynne Spencer showing in their earlier days
Membership
Our current Life Members include: Mr R Ayton, Ms L & Mrs M Brodie, Ms R Spencer, Miss M Joyce, Mr P Little, Mr D Heatlie, Miss J Pollard, Mrs H Morden, & Mrs A Sciberras.
Years of Membership
We wish to acknowledge the following members for 20+ years of membership
Mrs S Anderson
Mr Reg Ayton
Mrs P Bailey
Ms Margaret Brodie
Ms Louise Brodie
Mrs P Cleary
Mrs L Green
Mr Dallas Heatlie
Mrs Sheryl Heatlie
Miss Margaret Joyce (our longest serving member)
Ms Lyn Lack
Mr Paul Little
Mrs Helen Morden
Ms June Pollard
Mr and Mrs B Preston
Ms Robynne Spencer
Mrs W Sutcliffe
Mrs A Sciberras
We also wish to remember our long serving members who have sadly passed away in recent times
Mrs Joy Boyd
Mr Jack Carroll
Mr Keith Houston
PATRONS: MR. REG AYTON & MS MARGARET JOYCE
Current Committee
President: Mrs Sue Anderson
Vice-President: Ms Louise Brodie
Mrs Meg Hardy
Secretary: Mrs Margaret Brodie
Treasurer: Mr Dallas Heatlie
Committee: Ms Robynne Spencer
Mrs Sheryl Heatlie
Ms Carol Buxton
Mr Alex Hill

​
​
The Cocker Spaniel Club of Victoria Inc. cannot be held responsible for comments made by non-office bearing members of the Club, any statements not authorised by an office bearer, advertising material, nor any representations published on the official website of the Cocker Spaniel Club of Victoria Inc.
Contact Details
Secretary: Margaret Brodie
Phone: 0418396744
email: [email protected]